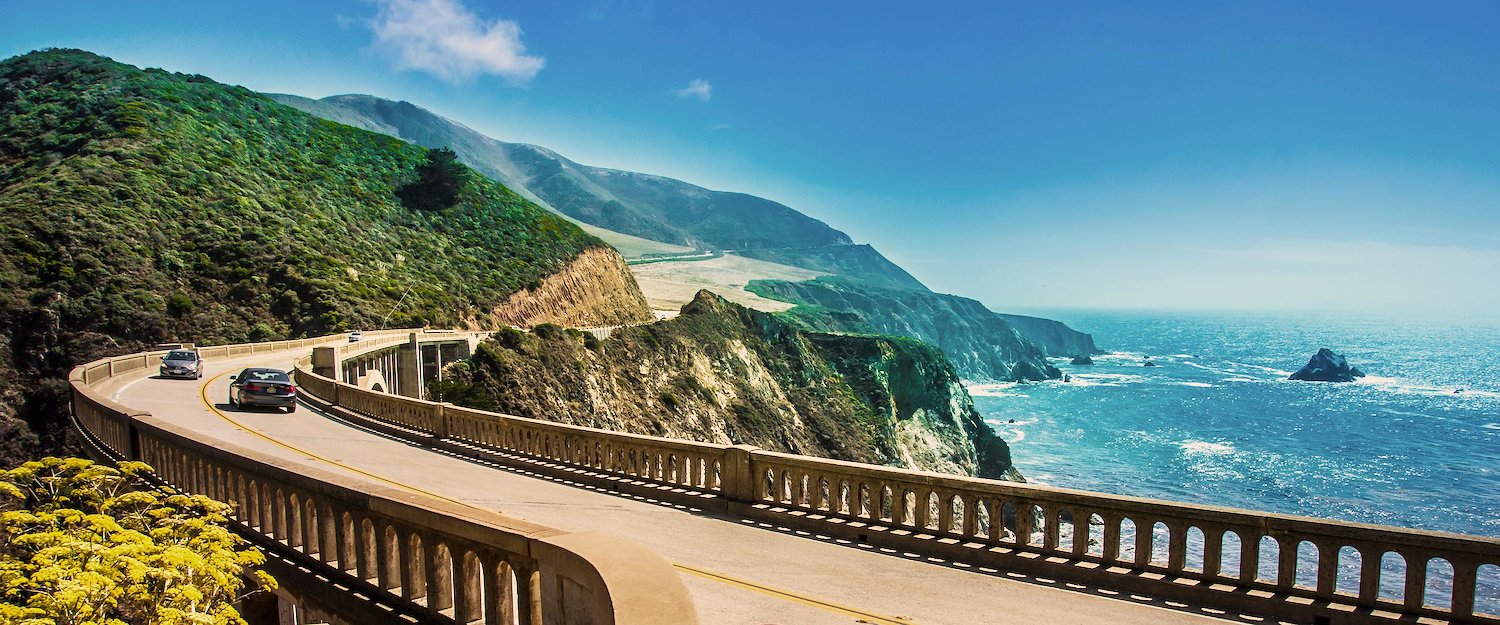 Other property types in California that might be interesting:
Prices and availability
Current Vacation rental prices California
CA$646
for 10 Jun - 17 Jun
CA$720 annual average
Jul
Aug
Sep
Oct
Nov
Dec
Jan
Feb
Mar
Apr
May
Jun
Average price per week
Current vacation rental availability California
44% annual average
Jul
Aug
Sep
Oct
Nov
Dec
Jan
Feb
Mar
Apr
May
Jun
Percentage of available rentals
Vacation rentals in California
Rentals for everyone in California
From its celebrated coastline to its desert lands and granite Sierra peaks, California offers a lifetime of vacations in one Golden State. There are more than 45,000 vacation rental to choose from in this paradise land, in the main cities of LA and San Francisco, to the pretty towns of Santa Monica and Gorda on the rugged coastline, to rentals in the heart of the wild natural mountain-scapes such as the National Forests of Eldorado and Kings Canyon.
A room with a view of paradise
From rural properties in the wilderness to properties in the heart of the cities, there are accommodation types to suit all tastes in California. Choose from beachfront rentals, or if you prefer the urban lifestyle, smart city condos, or perhaps an eco-rental with a beautiful view set in one of California's national parks would make for your perfect vacation!
Vacations in California
The area and getting around
Stay in California's fascinating cities
California is dominated by its world-class coastal cities of San Francisco in the north and Los Angeles in the south. The former offers its visitors the iconic cable car, culturally eclectic neighbourhoods and the world-famous Golden Gate Bridge, with the latter bringing us the famous hot spots such as Hollywood, Venice Beach and theme parks such as Disneyland. The southern city of San Diego is another popular destination, with warm weather year-round, endless stretches of surf-friendly beaches and the best Mexican food in the USA.
Discover the most popular national parks in the US
California is home to the most popular national parks in the US, including, in the north of the state, Sequoia National Park, with its epochal towering redwoods, and Point Reyes national seashore, with its headlands and sea cliffs that provide a sanctuary for wildlife. In the east of the state visit Yosemite, with its formidable natural landscapes, and in the south Devils Postpile national monument, with its whimsical rocky landscapes.
Travellers and activities
California for families
California is a custom-made destination for family travel. Theme parks, celebrity hot spots, the great outdoors – its all there. Universal Studios Hollywood, Legoland California Resort and Disneyland Park are world-class theme parks like no other. Monterey Bay Aquarium, San Diego Zoo and Seymour Marine Discovery Center take you on an educational and fascinating journey around the natural world. Santa Barbara County and Orange County are home to the million-dollar sands of unmatched beaches. Yosemite National Park and Lassen Volcanic National Park provide an epic slice of the great Californian outdoors for you and your family.
California for hikers
California is a hiker's Arcadia, with a vast diversity of landscapes. The majestic glacier-carved valley of Yosemite, the hair-raising mountainous coastline of Big Sur, the placidly barren Mojave Desert, the imperial snow-capped Mount Shasta, and the jagged, untamed hinterland of Solstice Canyon are all exceptional destinations unlike anywhere else in the world. Head to Mountain Whitney for the highest summit in the continental United States. For inner city hiking, Runyon Canyon Park is a hidden gem right in the centre of Los Angeles, a locals' favourite unknown by most tourists. The park offers several trails, all with fantastic views of the rugged landscape and the Los Angeles cityscape.
Only four countries in the entire world produce more food than the state of California and is known as the 'Avocado Capital of the World.'
Top 5 travel tips in California
1. Ride the San Francisco street cable car
The only manually operated cable car left in the world, no experience is more uniquely San Francisco. For the most scenic route, start at Powell and Market and continue to the Fisherman's Wharf area.
2. Explore the haunting Alcatraz Island
Home to what was America's most notorious prison, which held the likes of Scarface Al Capone. This is far more than just a 'prison tour'; it is one of the stand-out highlights in the entire state of California. Get there via a short boat ride from the San Francisco harbour.
3. Discover Redwood National Park
As the Ewoks well know, the Redwood trees are some of the oldest in the US, and the tallest in the entire planet. Take a relaxed walk, crane up and try to spot the top of these magnificent faunal specimens, then pay a visit to one of the enduring trademarks of American roadside kitsch – the drive-through tree.
4. Visit Lake Tahoe
Amazing, remarkable, mind-boggling … try as you might, you will struggle to find the words that will do justice to the beauty of Lake Tahoe. Visitors are drawn to the steep granite cliffs and imposing mountaintops, and its crystal-clear waters.
5. Explore Hollywood's Walk of Fame
One of LA's most beloved free attractions, it is the epicentre of Old Hollywood history, with 2,500 stars and counting, and lots to see and do. Stretching between La Brea Avenue and Vine Street, it is a mile long and is home to both the Hollywood Walk of Fame and the footprints at Grauman's Chinese Theatre. An obligatory pilgrimage for movie lovers!
FAQs: Vacation Rentals and Apartments in California
How much does it cost to rent a vacation rental in California?
Considering the average price of CA$553.93 per night, California lies at the upper end of the price range for vacation rentals in the USA.
What time of year offers, on average, the best vacation rental prices in California?
After analyzing our data from last year, the months that hurt your pocket the least in California are March, February and October, with average prices of CA$522.92, CA$529.01, and CA$533.5, respectively.
When are vacation rentals more expensive in California?
When it comes to looking for a vacation rental in California, the months that cost the most are, in order of highest to lowest, September, December and August, with average prices per night of CA$592.31, CA$583.92, and CA$583.3, respectively.
Are there usually many vacation rentals available in California?
So you don't run out of accommodation options in California, it is necessary to be proactive as 83% of rentals are usually booked, according to last year's data.
What are the best months for a spontaneous getaway?
In 2020, the months with the largest number of properties available of the year in California were April, May and January, with average availabilities of 29.5%, 27%, and 26%, respectively.
When will it be harder to find an available vacation rental in California?
According to data from 2020, the months when it is most difficult to find accommodation in California are, in order, July (with 9.25% of available rentals), August (9.8%), and November (12.5%).
How many rentals are there in California?
Holidu offers around 46000 accommodations in California from 18 different partners, so find the perfect type of accommodation you are looking for. You can count on us!
Vacation destinations in California
Vacation destinations nearby
Holidu compares hundreds of websites to find your perfect holiday rental for the best price.