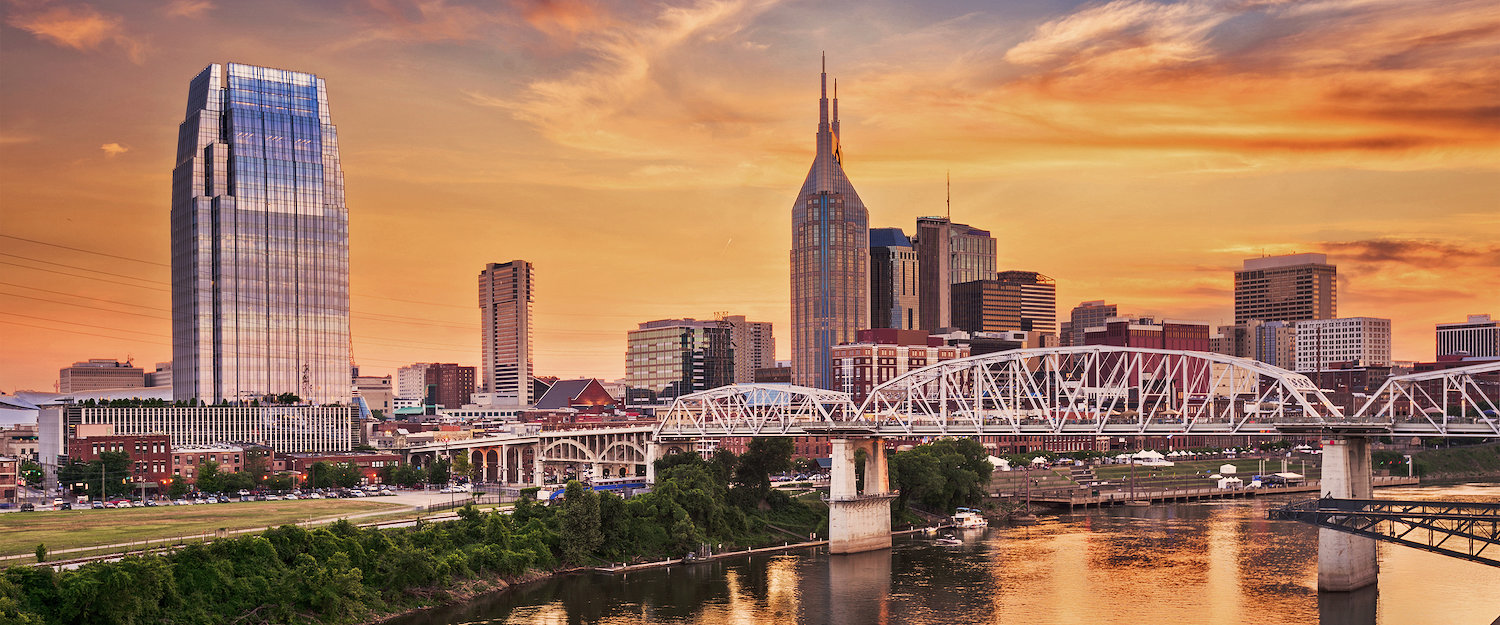 Prices and availability
Vacation rental prices Nashville
CA$635
for 11 Feb - 18 Feb
CA$850 annual average
Mar
Apr
May
Jun
Jul
Aug
Sep
Oct
Nov
Dec
Average price per week
Vacation rentals availability Nashville
52% annual average
Mar
Apr
May
Jun
Jul
Aug
Sep
Oct
Nov
Dec
Percentage of available rentals
Vacation rentals in Nashville
Vacation rental and spacious rentals near downtown
Nashville is the capital of the state of Tennessee in the United States of America. Known as the City of Music thanks to its record industry that contributes directly to the development and economy of this important city. Close to the city centre, you can visit the Bridgestone Arena, the Ryman Auditorium and the Tootsies Orchid Lounge. At Holidu, we have vacation rental for those days of relaxation and fun that you are looking for, so everyone can enjoy!
Wonderful vacation rentals with pools and gardens
Beautiful properties which have everything the traveller needs, including spectacular views, internet service, parking, children can play hide-and-seek, exercise, swim in the pool which increases flexibility in the body, being an aerobic exercise for all, in some of these accommodations allow you to share with your dog, you can organize a barbecue in the beautiful gardens!
Vacations in Nashville
The area and getting around
Bridgestone Arena in the centre of the city
It's big, spotless, has an information and tourist office, is ideal for watching a hockey game or a concert, the atmosphere is incredibly exciting. A giant screen is set up on Broadway Street to watch the game, and there are several excellent places to eat. Parking is ample, and you can park across the street at the Music City Center. The workers are very efficient. The views for concerts are really very good, hosting many great acts with famous artists.
Tootsies Orchid Lounge
Tootsie's Orchid Lounge is a Nashville, Tennessee bar located behind the Ryman Auditorium. Sharing a few hours here is fabulous, at all times of the day and night. Fabulous terrace for lunch and wonderful bars for dinner, it has numerous stages which feature brilliant live country music artists every night, the staff are lovely, the service is attentive and fast. Some of its first famous customers. Terri Clark, a Canadian-born country artist, began singing at Tootsie's in 1987 and has since become a successful international country star.
Travellers and activities
Nashville for music lovers
Enjoy seeing a country concert at the Grand Ole Opry in person, it will be a great experience, it is the temple of country music, southern music, the artists are original, the audience is contagious and they teach us country music. It is a large auditorium mostly made up of Americans who love country music! It is recommended to book tickets in advance online, as it is difficult to find same-day tickets.
Nashville for history lovers
Hermitage was home to Andrew Jackson, former President of the United States, a 600-acre estate. You can take a guided tour, starting with a film on the life of President Jackson and a visit to the museum, then to the Hermitage 'mansion', enjoy the gardens, grounds and curio shop. You can walk through the old barracks, take a horse-drawn carriage tour, and enjoy a guided tour of the Hermitage.
Did you know that Nashville is known as Music City, as the country music capital of the world, the sound includes a wide variety of genres, with over 120 live music venues throughout the city?
Top 5 travel tips in Nashville
1. The Parthenon in Nashville
It is a replica built in honour of the Goddess Athens, a beauty of architecture, worked with high details, it has a museum with beautiful and interesting works of art, the recreation of the Parthenon, it is beautiful, majestic. The statue of Athena Parthenos is admirable, painted just as the original was in Athens, large gardens, beautiful, ideal for walking, also special events are held. Good parking, and souvenir shop with refreshments.
2. Adventure Science Center
Informative and interactive place to delight your children and all ages, with hands-on edutainment, interactive exhibits to learn about science. You can learn what it takes to become an astronaut, simulation activities, the planetarium shows are delightful, the body health section is exciting, fun and science learning, an excellent combination for the whole family. All the staff are friendly and attentive.
3. Country Museum & Hall of Fame
Visit the Country Music Hall of Fame and Museum, take your time to tour the best of country music past and present, downtown Nashville and the "Smithsonian Country Music Museum", plus it offers stunning art galleries, historical archives, educational classrooms, restaurants, special events area, all with a breathtaking view of the rest of the music city, exciting and entertaining destinations, travelling through country music. Very organised, friendly, clean and exceptional staff.
4. Visit the beautiful Cumberland Park
Fabulous park which has a mini climbing wall, spider climbing and climbing ropes, children's play areas, and wonderful views of Nashville. It's a nice break for kids from the hustle and bustle of downtown, and dogs are allowed.
5. Visit the Nashville Zoo
Fabulous huge zoo, ideal if you love animals, it's friendly, the main path winds through the Tennessee woods and provides a great natural environment to enjoy, the tiger area, bears as all environments are highly secure, you'll find hanging lanterns. The Gibbons are loud and boisterous, the guinea pig pen is super adorable, there is a herd of rhinos, clouded leopards and red pandas, it really is amazing, kids can swing, slide and splash in an outstanding community built adventure playground, all staff friendly, attentive.
FAQs: Vacation Rentals and Apartments in Nashville
How much do you pay on average for vacation rentals in Nashville?
Nashville is one of the most expensive cities in the USA. For a vacation rental here, you can expect to pay around CA$554.33 per night.
During which months are vacation rentals cheaper in Nashville?
If you want to save the maximum during your visit to Nashville, pack your bags and travel there in February (CA$497.94 per night on average), January (CA$498.89), or August (CA$531.67), to find the lowest prices for the whole year.
When are vacation rentals more expensive in Nashville?
In 2020, the month that showed the highest annual average prices in Nashville was March, with an average price of CA$641.04 per night. This was followed by July, with an average of CA$595.07, and May, with CA$576.8.
Do I need to plan a trip to Nashville well in advance?
It is recommended that you book your stay in plenty of time when visiting Nashville, as only 30% of our accommodations are usually available throughout the year.
What are the best months for a spontaneous getaway?
In 2020, the months with the largest number of available properties of the year in Nashville were May, April and January, with average availabilities of 47.8%, 45.5%, and 39%, respectively.
When are there fewer vacation rental options available in Nashville?
The month with the highest average booked rental figures is October (only 17.4% of properties were available on average in 2020). Followed by November (19.25%), and March (19.75%).
How many rentals are there in Nashville?
In Nashville we work with 8 different providers to give you a choice of 2000 properties, so you will not be short of options!
Vacation destinations nearby
Holidu compares hundreds of websites to find your perfect holiday rental for the best price.