Other property types in Edinburgh that might be interesting:
Prices and availability
Current Vacation rental prices in Edinburgh
CA$565 annual average
Apr
May
Jun
Jul
Aug
Sep
Oct
Nov
Dec
Jan
Feb
Mar
Average price per week
Current vacation rental availability in Edinburgh
30% annual average
Apr
May
Jun
Jul
Aug
Sep
Oct
Nov
Dec
Jan
Feb
Mar
Percentage of available rentals
Lying on the foot of an extinct volcano to the east of Glasgow, Scotland's capital city of Edinburgh is a unique city in the UK, renowned for its staggeringly beautiful aesthetics, a limitless amount of things to do and friendly locals to meet. Book your dream vacation apartment today with Holidu and discover this cosmopolitan city for yourself!
Things to know about Edinburgh
Vacation rental in Edinburgh – Auld Reekie's Heritage
Edinburgh has developed itself to a cosmopolitan metropolis, with many landmarks and activities on offer for the many people who choose to discover the city each year. Whiskey-tasting, city tours, museums and many fantastic shopping possibilities: Edinburgh offers something for everyone. Being Scotland's capital city and with a good proximity to Glasgow and Stirling with many fantastic vacation apartments and vacation rentals available with Holidu, Edinburgh is home to a vibrant history as well as featuring a contrasting Old Town and a New Town, combining Edinburgh's contemporary style and reminders of its heritage.
The old town still contains a medieval flair with meandering streets, cobblestones and historic buildings. Edinburgh's new town in comparison with its shopping street of Princes Street features wide roads and neoclassical houses - both parts of town lie directly next to each other, separated by the picturesque Princes Gardens, an idyllic park best visited in the summer. To discover the true beauty of Edinburgh up close, it is best to travel around on foot – most landmarks and attractions lie close to one another. With many fantastic vacation apartments and vacation rentals available with Holidu, there has never been a better time to book your dream Edinburgh break today!
Vacation Apartments in Scotland's Capital City
Edinburgh offers various events throughout the course of the year, from Hogmanay on New Years' Eve, the Royal Military Tattoo to the world famous largest arts festival in the world Edinburgh Fringe Festival which take place throughout August. With thousands of performers taking to the streets and to the stage, with performers from the world of theatre, comedy, dance, music, circus, poetry and many more, the Edinburgh Fringe Festival is a truly unique collection of many people in high spirits enjoying themselves in a city with a fantastic atmosphere. Hikers will be pleased to know that Edinburgh offers the famous hike to the top of Arthur's Seat, a steep cliff overlooking the city upon an extinct volcano: A truly staggering view to behold -
If you are into fantastic views of both nature and stunning cities, this should be far up on your Edinburgh itinerary. Regarding staggering views of the city, another top vantage point to discover Edinburgh from up high is from the top of Scott's Monument. Commemorating Sir Walter Scott, this monument is the largest dedicated to a writer in the world and comprises of 287 steps up to the top. If you do happen to find yourself in the middle of Scotland's famous rainy weather, Edinburgh provides many things to try out and discover come rain or shine. Discover local cozy cafes and pubs to get a literal taste for Edinburgh, famous throughout the UK for its shortbread and local Scottish delicacies, such as Haggis and why not try a, "Wee Dram" of Whiskey.
Top 5 Travel Tips for Edinburgh
1. Edinburgh Castle is the dominant landmark over the city which draws many visitors from all over the world. The castle towers over the city on an extinct volcano and is visible from throughout the city. A visit is certainly worth recommending due to its immense size and attractions – set a day aside to discover this beautiful site. With many vacation apartments and vacation rentals available throughout Edinburgh with Holidu, an outstanding view of Edinburgh castle is never far away.
2. The Camera Obscura is especially exciting for children – located not too far away from Edinburgh Castle, you can experience this 19th century pinhole camera and discover more about perspectives, as well as experiencing optical illusions up close: Tremendous fun for all the family!
3. The fitting souvenir is best found at one place: The Royal Mile. The historic and important street is exactly 1.3 miles in length and connects Edinburgh Castle with the Holyrood Palace, standing right next to the Scottish Parliament. Walk down this street and experience the centre of Edinburgh up close!
4. Edinburgh's gloomy side not for the faint hearted is featured at the Edinburgh Vaults: View Edinburgh's dark underground at night with night tours! In the 18th century, these vaults were used as a home for Edinburgh's poorest and a venue for the black market. The vaults hide many grisly tales and visitors experience many atmospheric themes on the tours. Escape to your cozy vacation apartment in Edinburgh after visiting these eerie vaults available with Holidu!
5. As well as hosting its renowned fringe festival, Edinburgh also hosts the Royal Military Tattoo. With performers from over 48 countries having previously taken part and televised in over 40 countries, the Royal Military Tattoo is renowned not only throughout the UK but all over the world. Taking place throughout August, each set of performances varies substantially to the performances of the previous year, all taking place with the fabulous backdrop of Edinburgh Castle, all lit up and towering over the venue. It is recommendable however to book tickets early if you plan on going – with amazing firework displays and many not only military marches but also dance and well-choreographed performances from groups from all over the world, it is certainly something you won't forget in a hurry!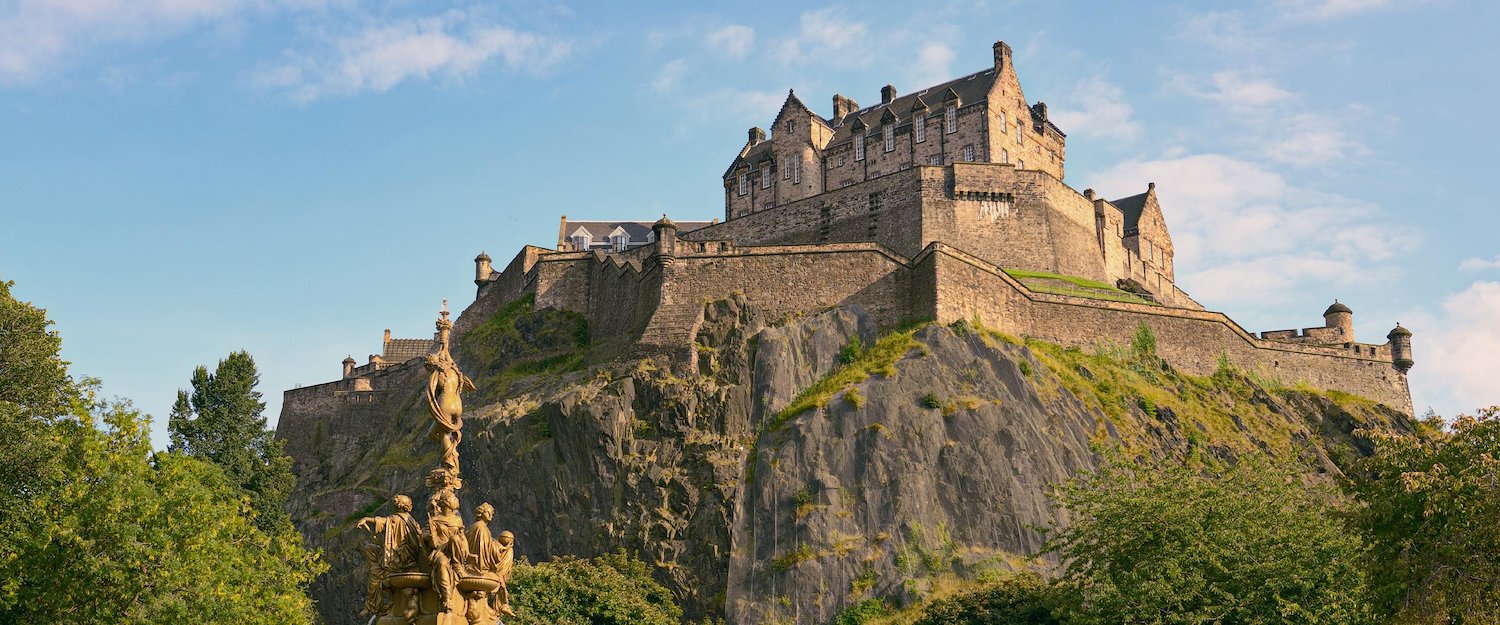 Discover your own unique side to Edinburgh with many Vacation Apartments tailored to you!
There is so much more to Edinburgh than what could ever fit in this description: Edinburgh is a beautiful and culturally rich city with stunning architecture throughout which can only be truly experienced by discovery up close. Luckily enough, Holidu displays a vast range of stunning vacation apartments, vacation rentals and vacation rental located throughout
Edinburgh to fit your needs. Decide how many rooms your accommodation should have, child and pet friendly facilities if necessary, a TV, a dishwasher, Internet Access and many more facilities. Finding your perfect accommodation is now a thing of the past – use Holidu's simple search function to start your dream Edinburgh break. Book online today!
FAQs: Vacation Rentals and Apartments in Edinburgh
On average, how much do vacation rentals in Edinburgh cost?
Based on the data from last year, Edinburgh is the most budget-friendly city in the United Kingdom, with an average annual price of CA$261.29 per night.
During which months are vacation rentals cheaper in Edinburgh?
]If you would like to get the most out of your money, the most affordable months to visit Edinburgh are September (CA$220.94 the average per night for accommodation), November (CA$245.51), and June (CA$247.53).
In which months is it more expensive to rent a vacation rental in Edinburgh?
In 2020, the month that showed the highest annual average prices in Edinburgh was May, with an average price of CA$295.43 per night. This was followed by April, with an average of CA$280.2, and August, with CA$273.39.
Do I need to plan a trip to Edinburgh well in advance?
It is better to plan ahead in Edinburgh as only 38% of the properties are free throughout the year, according to our 2020 data.
What time of the year can I find more available vacation rentals?
In 2020, the months with the largest number of properties available of the year in Edinburgh were June, July and November, with average availabilities of 52%, 50.75%, and 41.5%, respectively.
When will it be harder to find an available vacation rental in Edinburgh?
The month with the highest average booked rental figures is May (only 30.2% of properties were available on average in 2020). Followed by September (31%), and October (32.8%).
How many vacation rentals are there in Edinburgh?
In Edinburgh we work with 18 different providers to give you a choice of 2200 properties, so you will not be short of options!
Holidu compares hundreds of websites to find your perfect holiday rental for the best price.