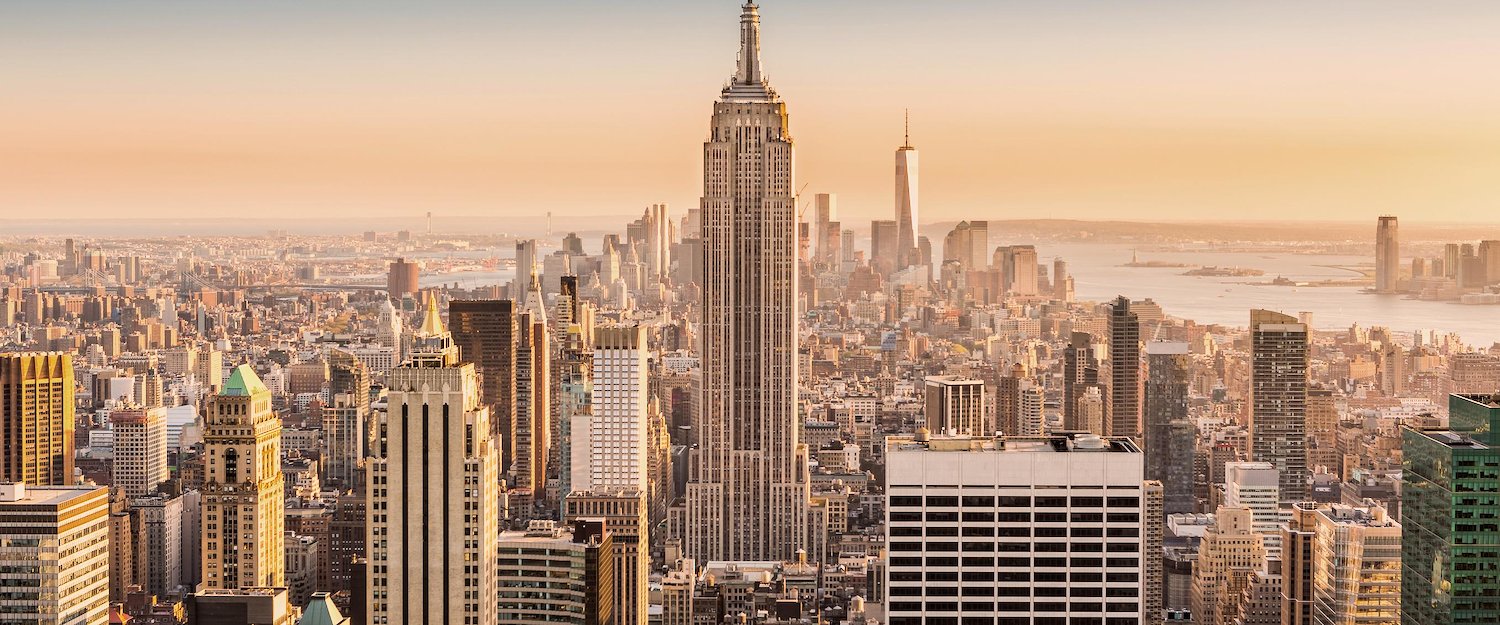 Other property types in New York City that might be interesting:
Prices and availability
Vacation rental prices New York City
CA$531
for 11 Feb - 18 Feb
CA$716 annual average
Mar
Apr
May
Jun
Jul
Aug
Sep
Oct
Nov
Dec
Jan
Average price per week
Vacation rentals availability New York City
15% annual average
Mar
Apr
May
Jun
Jul
Aug
Sep
Oct
Nov
Dec
Jan
Percentage of available rentals
Stunning skyscrapers, bright lights and something to see and discover no matter the time of day, season or month: Welcome to New York! With Holidu, you can find many fantastic vacation apartments suited to you with a click of a button - Whether in Manhattan, Brooklyn, Queens, Staten Island or The Bronx!
Things to know about New York
Vacation rental amongst famous skyscrapers on the US East Coast
With so many things to see and discover, there is so much more to cover about New York than what could ever fit in this description. Consisting of five districts, each with their own unique legacy, culture and style, New York offers more than the world famous skyline of Manhattan: Which by itself draws millions of visitors each year with its iconic buildings, architecture, culture and way of life, renowned across the world. New York also contains Brooklyn, Queens, The Bronx and Staten Island, all containing unique cultures and regional specialities to look out for. Located on the US East Coast in New York State, lying next to neighbouring Jersey City, Newark and no two hours away from Philadelphia, New York dominates the landscape geographically and culturally with its famous towering skyscrapers of Manhattan, the Statue of Liberty and its bright lights at night, living up to its motto of being the city that never sleeps.
New York caters for people of all ages with a countless amount of things to do - this includes many things to discover with the family. Explore Central Park and discover its densely packed forests and playground with the family before heading off to a great coffee shop or a fabulous restaurant to indulge in New York's famous cuisine, notoriously influenced from cuisines from all over the world. To get around New York City and discover its hidden gems amongst renowned landmarks and the towering skyscrapers of Manhattan, New York, Manhattan in particular, is best discovered by foot. Thanks to New York's famous simple grid plan layout with endless streets and avenues, navigation from or to your vacation apartment is made simple and satisfying. If you don't fancy a walk, take a ride in one of New York's famous Yellows Taxi Cabs or in its metallic looking subway - the option to take a helicopter tour to discover New York's staggering skyline from above is also available!
Vacation Apartments in New York - From famous international cuisine to musicals in Broadway
No matter what season, the weather, old or young: New York offers an unbeatable portfolio of options for every traveller throughout the year. We all undoubtedly affiliate New York with images of towering skyscrapers, stunning bridges and its notorious hustle and bustle, all densley packed to create a show of diversity and a cultural hub. Experience New York's unique multiculturalism - more languages are spoken here than anywhere else on earth, the second largest Polish population second Warsaw, to name a few examples. Try New York's unique international cuisine with a large selection of cuisine influenced from all corners of the world - head down to Little Italy and try fine pizzas,
spaghetti, prosciutto, or head down to Chinatown to enjoy Chinese cuisine at its best. If that isn't your cup of tea, why not try a famous hot dog from one of New York's countless hot dog stands located all over the city, or try restaurants with food from every corner of the world - the choice is yours! When it comes to excursions, New York is in a class of its own with endless possibilities: Take a tour to one of the small yet important Islands located in New York harbour. Visit the Ellis Island Museum and discover the origins of New York's unique diversity - a visit to the Statue of Liberty goes without saying, an absolute must when you book your perfect vacation apartment in New York!
Top 5 Recommendations for New York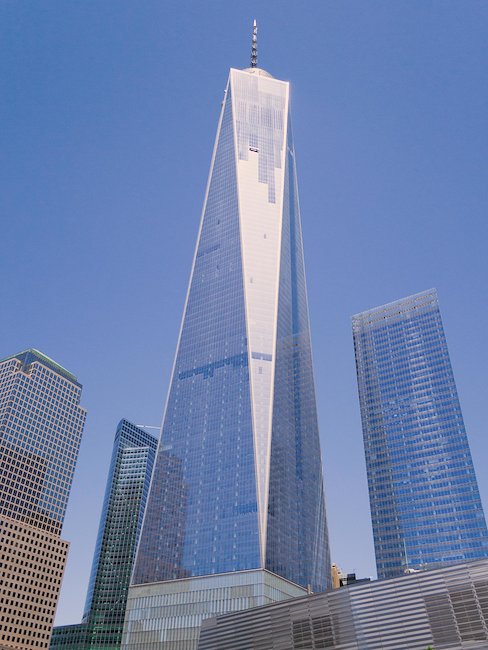 1. To discover the distinctive Manhattan Skyline from up high, visiting the top deck of the Empire State Building goes without saying. A popular hotspot with good reason, discover views from the newly build One World Trade Centre, over Central Park to New Jersey and Brooklyn on either side. With an impressive height, a view of the spectacular looking Empire State Building is never far away from a vacation apartment found with Holidu!
2. For a great day out with the family, why not visit the famous Central Park Zoo! Including lions, penguins, hippos, giraffes and zebras featured in the hit film, "Madagascar", unforgettable days viewing stunning wildlife in the middle of Central Park's tranquility surrounded by Manhattan's hustle and bustle are spent here - This zoo is truly in a class of its own!
3. Discover New York's top attractions by taking a tour on the Hop on, hop off bus! These buses venture through Manhattan, Brooklyn and The Bronx, and regularly stop to let you literally either, "hop on or hop off!" With many options available to choose whilst booking including night tours and specific routes to discover downtown or uptown New York, the option to discover New York at its heart has never been so accessible.
4. If you are looking for a thrill, why not visit Brooklyn's Luna Park and discover its notorious Coney Island Cyclone roller coaster, which dates back to 1927 and become a National Historic Landmark in 1991. Featured in many films and TV shows, this historic wooden roller coaster has become somewhat of a cult classic - discover it up close for yourself!
5. A well visited and renowned landmark in New York - Times Square is definitely worth a mention. Discover its endless bright lights, vibrant surrounding advertisements and the vibrant hustle and bustle which seems to never end. Discover Times Square on New Years Eve and experience the unforgettable display of fireworks, lights and atmosphere.
Discover fantastic New York Vacation Apartments with Holidu
The big apple, the city that never sleeps, the city so nice they named it twice: Just a few nicknames given to New York City over the years. New York is a truly vast, diverse and unique city with legacy and a way of life that is renowned all over the world. To discover and explore more activities to do and places to see than could ever fit in this description, experience New York City for yourself with a fantastic vacation apartment with Holidu! With the help of Holidu's user
friendly search engine, discover your perfect vacation apartment tailored to you! Choose the amount of rooms you require, child friendly facilities, a close proximity to a certain landmark or attraction as well as the availability of Internet access, a TV, a kitchen and many other facilities. Finding your dream New York vacation apartment has become child's play with Holidu - so start spreading the news and leave today: You want to be a part of it! New York, New York…
FAQs: Vacation Rentals and Apartments in New York City
What is the average price for vacation rentals in New York City?
Our data shows that New York City has an average price of CA$417.46 per night, a relatively high one under the cities in the USA.
During which months are vacation rentals cheaper in New York City?
]If you are looking to make the most of your money, the cheapest months to visit New York City are February (CA$360.09 the average per night for accommodation), January (CA$363.5), and September (CA$395.94).
In which months is it more expensive to rent a vacation rental in New York City?
When it comes to booking a vacation rental in New York City, the highest prices can usually be seen in the month of December (with an average of CA$451.23 per night), followed by April (CA$448.62), and May (CA$448.17).
Are there usually many vacation rentals available in New York City?
It is better to book your stay in plenty of time when visiting New York City, as only 30% of our accommodations are usually available throughout the year.
What are the best months for a spontaneous getaway?
April, January and May are, in order of highest to lowest, the months offering the largest number of properties available, with respective average availability figures of 38%, 38%, and 35.4%.
When are there fewer vacation rental options available in New York City?
The months with the lowest properties available in New York City are, in order, December, October, and August with respective average availability figures of 26%, 26%, and 26.4%, based on data collected in 2020.
How many rentals are there in New York City?
In New York City we offer you an extensive catalogue of around 2200 properties, with options to suit everyone, thanks to our 16 local and international providers.
Vacation destinations nearby
Holidu compares hundreds of websites to find your perfect holiday rental for the best price.